Communication experience
In 5 years of corporate communication and public relations, I have worked for an international university, a very creative advertising agency and a government cultural institution.

My work experience today includes:

all areas of communication:
from organizing festivals to brand launches
from award-winning online campaigns to long-term social media strategy of communication
from press conferences to brand experience events
with all types of responsibilities:
communication strategy, tactical activities/recommendations & project coordination
social media relations: online communication plan, social media campaigns management, site creation & development, SEO, SM accounts (blogs, Facebook, Twitter, wikis), content curation, generating user experience interactions, campaign analyze
press relations: data base management, journalists/publication evaluation, journalists/informal meetings, press events/trips/meetings
fundraising and key enabling partnership 

strategy

PR editing: press releases, social media content, product presentations/tests, additional press materials (information), topic pitching
monitoring & analyzing: media monitoring, qualitative & quantitative analysis (content), weekly/monthly reporting
internal organizational & communication audit (strategy, implementation, evaluation, etc);
internal communication strategy & tools (e-newsletter, printed materials, etc);
In-home events (internal personnel conventions, internal events: christmas Parties, special customized internal events, special projects like re-locating the company);
internal animation programs for employees & clients or business partners;
for a wide range of business sectors like: Unilever (house hold and food brands), Sensiblu (Romanian drugstore chain), Siemens (innovation and technology supplier), Liberty Center (retailer), TinaR (fashion retailer), Raiffeisen Evolution & Dimri (real estate developers), TitanMar (construction materials supplier), Austral (office equipment supplier), Friends for Friends Foundation (creative leadership platform)
My career achievements are:
• the Silver Award for Excellence in Corporate Communication – PR Awards 2010 for City of Future campaign – powered by Siemens Romania – with the online blog: hitechpedia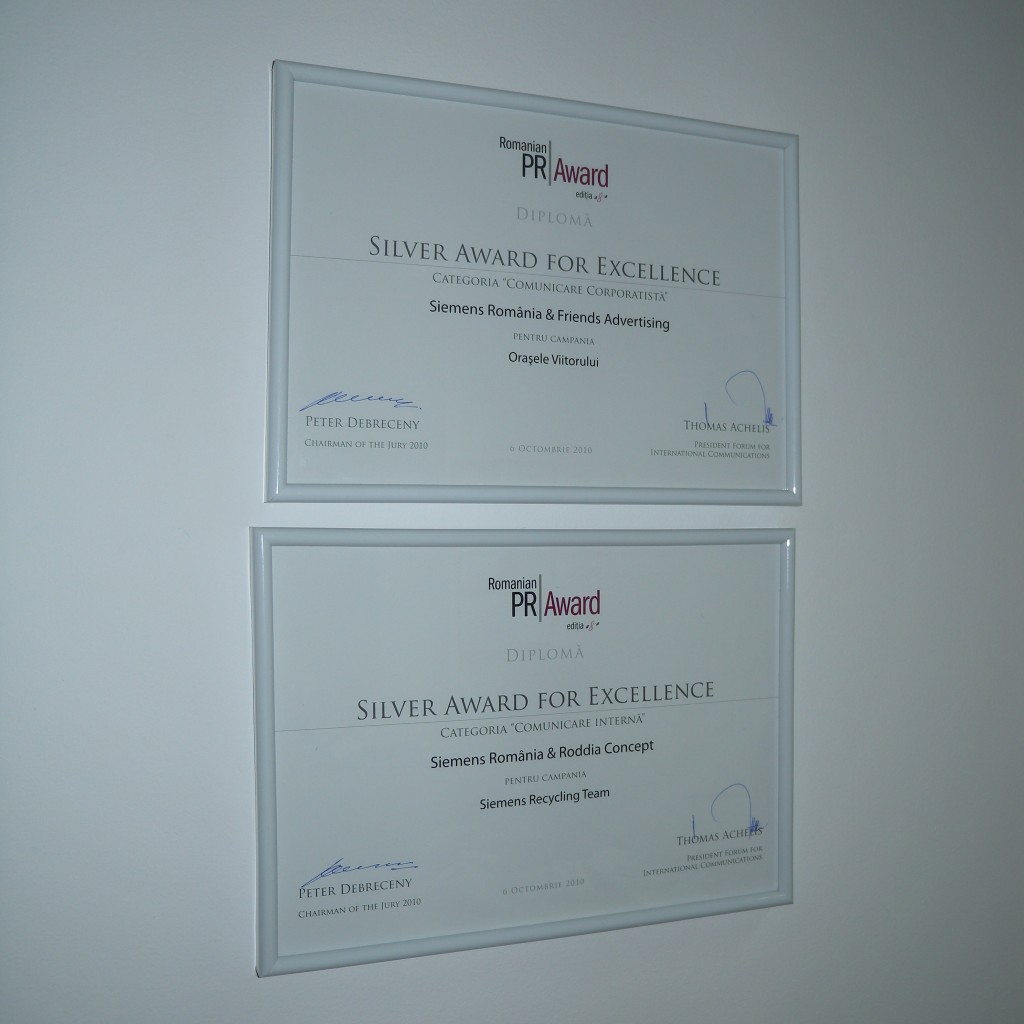 • the online comunication strategy set up for the Romanian Cultural Institut in Paris resulted in a shift from 80% romanian diaspora in the public to 80% young french people participating to the Institut events. Today, you can see my personal input in the constantly increasing awareness online of the Institute, due to the following actions:
– writing original content for the official site 
– managing the facebook page,  currently having around 2500 friends
– feeding the twitter account with news from the romanian cultural environment in France 
– developping online partnerships
– daily updating the digital agendas with cultural events in Paris maintaining a witty tone of voice
– and building an online community of fans.
• this PR idea for TinaR – the Romanian ladies fashion house that brought enormous public attention in Romania and increased the sales of the client with 50% after the campaign. Day D was a buzz thing we made with virtually no money invested. We announced that in a specific TinaR outlet, at a specific day and time, all of those ladies who enter the shop without their clothes could get all the missing garments for free. It was a bit radical for a somewhat conservative Romania but the impact was huge, and out of the blue we had a huge queue. Here is a film to remember…